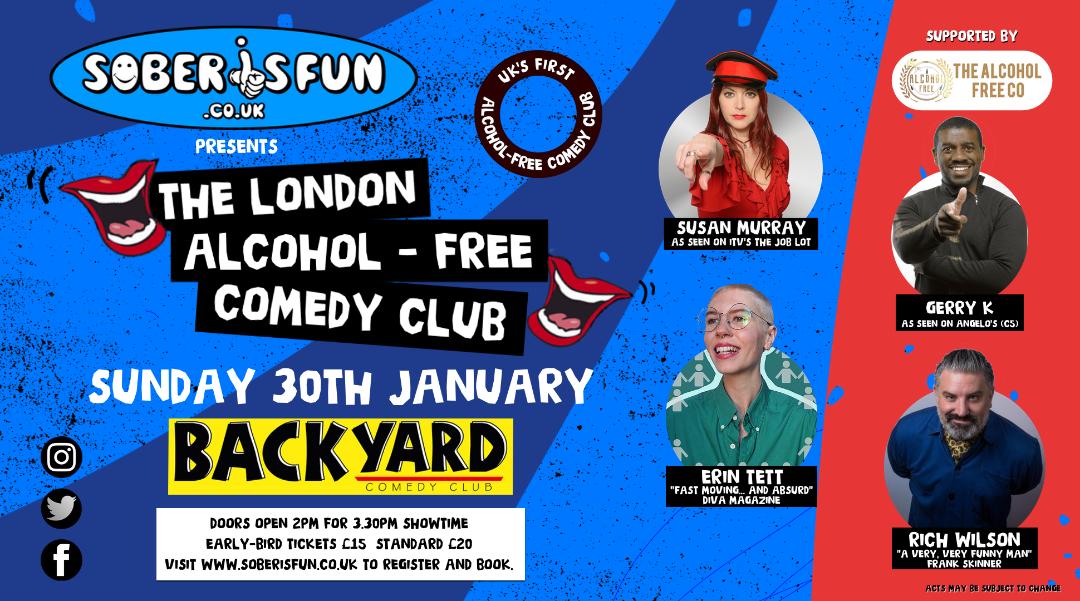 January 30, 2022 @ 2:00 pm - 5:30 pm
£15 – £25
Join Sober IS Fun for
London's Only Alcohol – Free Comedy Club for their Dry January Special!
Sober IS Fun is the UK's First & Original Alcohol – Free Professional Comedy Club.
This afternoon event is perfect for those living a Sober or Healthier Lifestyle , or that you just wish to take a break from the booze and relax on a Sunday afternoon  – and enjoy the best in Stand – Up Comedy
The event offers a large range of Alcohol- Free Drinks , along with great food options.
Showtime is 3.30pm, when we welcome 4 Top Professional Comedians to the Backyard Stage.
Show Finishes Approx. 5.45pm
Comedians on the afternoon: Susan Murray, Gerry K, Eryn Tett & Rich Wilson
Show Sponsored by The Alcohol-Free Co
'Come and experience the powerful atmosphere that comes with Sober Laughing Out Loud'
Early Bird Tickets available at £15. £20 thereafter.
Doors Open at 2pm, for pre- show fun with Pool, Table Football , Table Tennis all on offer. 
Showtime is 3.30pm, when we welcome 4 Top Professional Comedians to the Backyard Stage. 
Show Finishes Approx. 5.45pm
---
'Come and experience the powerful atmosphere that comes with Sober Laughing Out Loud'
Tickets: Early Bird £15 |£20 on the door | Acts subject to change