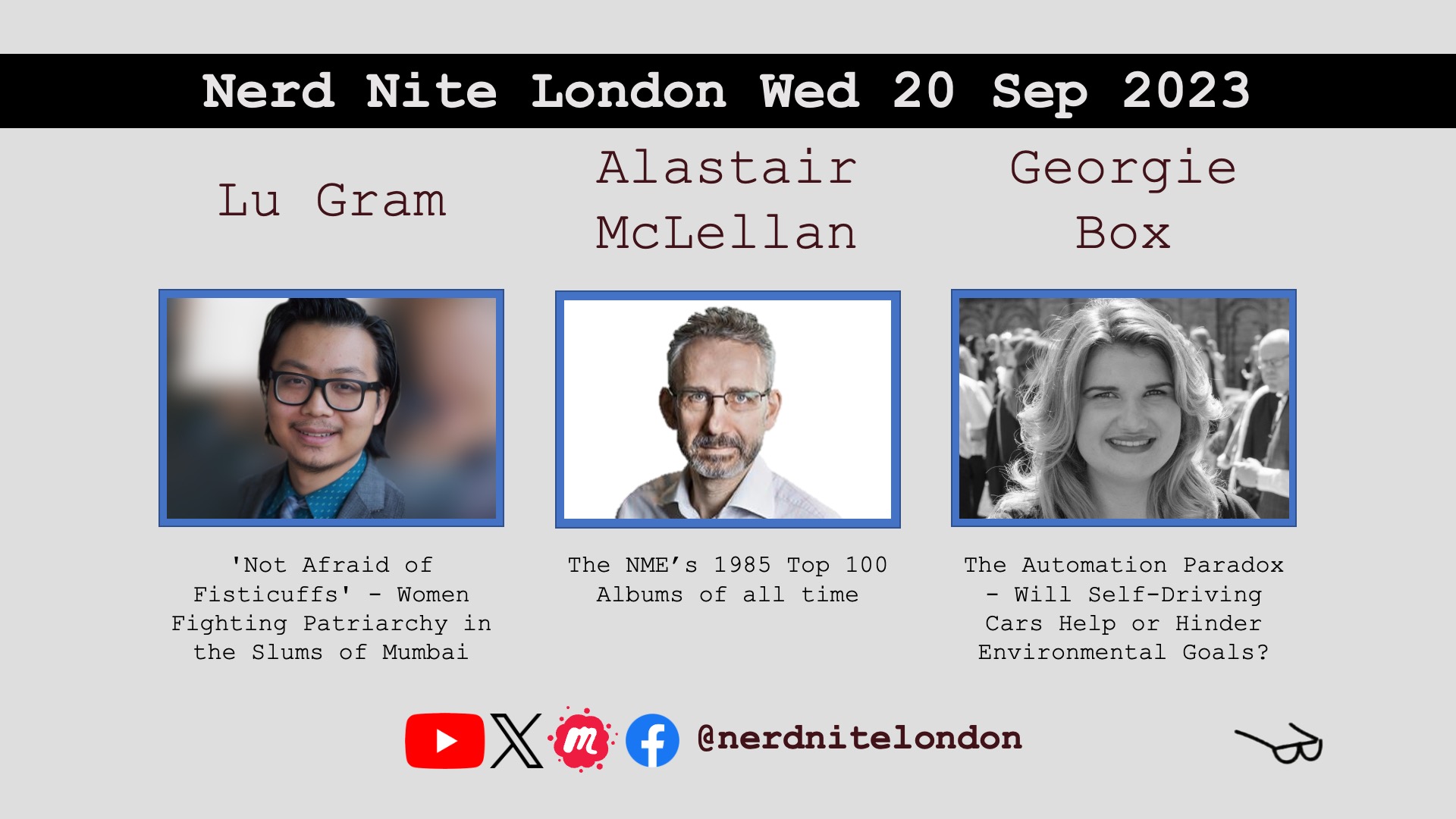 September 20 @ 6:00 pm - 11:00 pm
£5 – £7.50
Nerd Nite London is a monthly event where three speakers give 18-21 minute fun-yet-informative talks across all disciplines, while the audience drinks along. We're back from the summer break in September when we'll be nerding out about the environmental cost of self-driving cars with Georgie Box. Lu Gram will teach us how women in the slums of Mumbai fight back against patriarchy. And we will travel back to 1985 with Alastair McLellan who'll take us through New Musical Express's top 100 albums of all time!
Be there and be square.
NOT AFRAID OF FISTICUFFS – WOMEN FIGHTING PATRIARCHY IN THE SLUMS OF MUMBAI
Women living in the slums of Mumbai have to deal with a lot – overcrowded, tiny homes, poor access to basic necessities like water, sanitation, and electricity, corrupt police and bureaucrats, and to top it all off – patriarchy! Feminist NGOs try to make lives better for local women, but it is hard work. In this talk, I will discuss NGO efforts to promote gender equality and stop violence against women in the slums of Mumbai. Through small discussion groups reflecting on the nature of patriarchy and power, women were able to find solidarity and comfort in each other and oppose violence and inequality in their neighbourhood. You will hear about the solutions that local women employed to prevent violence – which may not look the way you expect them to look – and even learn a Hindi proverb or two along the way.
Lu Gram is a Senior Research Fellow at UCL and holds a Sir Henry Wellcome Postdoctoral Fellowship. He is a global health and development expert and has over a decade of experience working across the world, including Sub-Saharan Africa and South Asia. In spare time, he plays role-playing games and finds Disco Elysium far too realistic a portrait of the modern world.
THE NME'S 1985 TOP 100 ALBUMS OF ALL TIME
In 1985 the New Musical Express sold over 100,000 copies every week. In November of that year it compiled a list of the 100 finest albums.
And what a strange and wonderful list it was. The product of a dozen musical tribes clashing for supremacy. Supposed 'classics;' were ignored, left-field masterpieces celebrated. New York and Berlin were chosen as the joint capitals of the musical world.
The list captures a heady time when musical certainties were being rethought and a new way of conceiving greatness being born; a time when a passion for, and attitude to, music defined your identity as never before or since.
Alastair McLellan has been fired from every band he joined – including, the day after their wedding, from his wife's group. His abortive adventures on the wheels of steel are told in 'BedroomDJ'. The closest he now comes to musical glory is sharing childcare duties with Guillemots founder Ffye Dangerfield.
THE AUTOMATION PARADOX – WILL SELF-DRIVING CARS HELP OR HINDER ENVIRONMENTAL GOALS?
Connected Autonomous Vehicles aka self-driving cars have been hailed as the future of cleaner, greener, more efficient transport, with fewer accidents, less congestion and lower emissions. But can we be confident in that?
It turns out no! There are scenarios where deploying self-driving cars could lead to more cars on the road, longer journeys and more carbon! And it's not the result of some fantastical circumstances – just consumer behaviour, design decisions and algorithm optimisation.
Hear about how CAVs could be a force for good or for bad, and how decisions we make now could push it one way or the other.
Georgie Box has a Masters in General Engineering and works in the field of sustainable transport, driving innovation in decarbonisation and automation. She'll most likely be spotted round London on her favourite mode of transport, though – her trusty bicycle, Bichael Bublé.
All proceeds from Nerd Nite London go to charity. this year we are partnering with The Shine Trust to help foster a new generation of nerds.
More information about Nerd Nite London can be found by following us on X/Twitter @nerdnitelondon, liking us on Facebook at nerdnitelondon or visiting london.nerdnite.com. See some of our past speakers on our YouTube channel. 
Bar & Food available from 6pm 
Box Office 6.30pm
Arrive by 7pm – To pass through security etc in time for show
Show starts 7.30pm