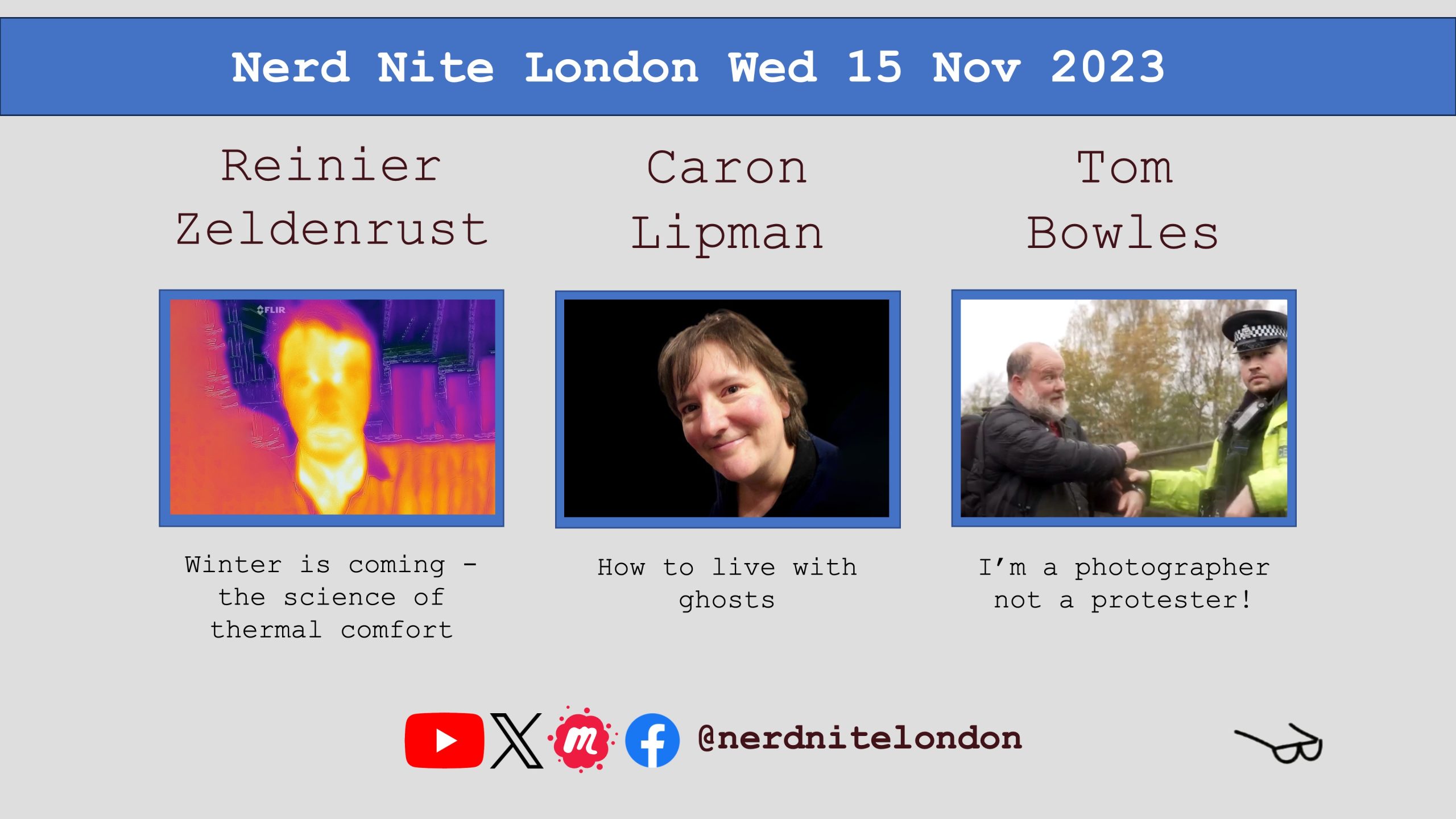 November 15 @ 6:00 pm - 11:00 pm
£5 – £7.50
NERD NITE LONDON, WHERE IT'S HIP TO BE SQUARE.
NERD NITE LONDON IS A MONTHLY EVENT WHERE THREE SPEAKERS GIVE 18-21 MINUTE FUN-YET-INFORMATIVE TALKS ACROSS ALL DISCIPLINES, WHILE THE AUDIENCE DRINKS ALONG. EVIDENCE BASED ENTERTAINMENT, IN A BAR…
MORE INFORMATION ABOUT NERD NITE LONDON CAN BE FOUND BY FOLLOWING US ON:
TWITTER @NERDNITELONDON
FACEBOOK WWW.FACEBOOK.COM/NERDNITELONDON
OR VISITING WWW.LONDON.NERDNITE.COM.
MAILING LIST – CLICK HERE
THIS MONTH WE HAVE:
Line Up
We don't have a December show so this is as Christmassy as it gets. This month Reinier tells us what feeling a bit chilly might be doing to our happiness. Actual Doctor of Haunted Houses, Caron has some tips for cohabiting with ghosts and press photographer Tom tries to make it to Nerd Nite without being arrested  on the way.
All proceeds from Nerd Nite London go to charity. this year we are partnering with The Shine Trust to help foster a new generation of nerds.
More information about Nerd Nite London can be found by following us on X/Twitter @nerdnitelondon, liking us on Facebook at nerdnitelondon or visiting london.nerdnite.com. See some of our past speakers on our YouTube channel. 
Bar & Food available from 6pm 
Box Office 6.30pm
Arrive by 7pm – To pass through security etc in time for show
Show starts 7.30pm