Nerd Nite London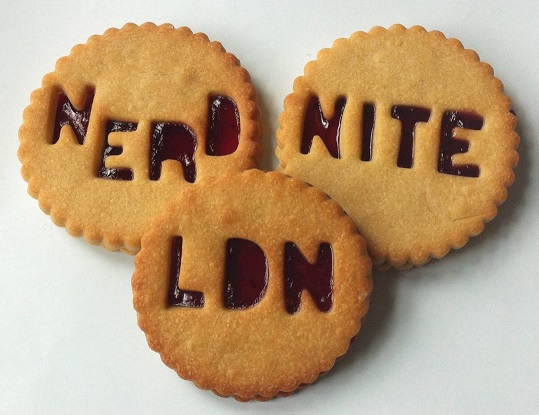 November 21, 2017 @ 7:30 pm - 10:00 pm
£7.50
Nerd Nite London is a monthly event where three speakers give 18-21 minute fun-yet-informative talks across all disciplines, while the audience drinks along.
This month we'll be learning about the Japafication of food, why mobiles have changed everything but the movies, and why science doesn't have more rhyme.  With special guest host Dominique Morneau.
Japafied: Using History and Data to invent new and daricious foods
From sushi to tempura to ramen, Japan has a history of importing foods from other countries and passing them off as their own. By the end of this talk, you too will be able to take any dish and make it Japanese, using a Japafication method based on data, history, and three basic culinary prompts.
Growing up Canadian in a mixed Japanese-German household, Hana Etsuko Dethlefsen is perfectly poised to translate authentic Japanese cooking to an English-speaking audience.  While living in Japan she did just that: her monthly column, Forking with Hana helped fellow ex-pats navigate the grocery aisles and keep them well fed.  Author of Let's Cooking  and co-host of "One World Kitchen", Hana now spends her days managing the Hackney museum and developing recipes for her new cookbook.
Poetry Without A Licence
Why do poets get away with lying? Why doesn't science have more rhyme? A talk about the natural world and our place in it, in the form of several poems.
Robin Lamboll is a national Hammer and Tongue poetry slam finalist, Famelab national finalist and a Physics PhD student at Cambridge
 
Mobile Has Changed Everything But The Movies
In a little under 25 years mobile phones and smart phones have transformed the word. Two thirds of the 7.5bn people on Planet Earth have them, with many countries having more phones than people. But you wouldn't know it by watching the movies. In this talk Peter will show data and case studies of the transformation of the world, and Hollywood's best efforts to ignore it.
Peter Gasston is an author, speaker and technologist at a digital agency in London. He's been around long enough to remember life without mobile phones.
All proceeds from Nerd Nite London go to charity. This year we are partnering with the Shine Trust to help foster a new generation of nerds. More information about Nerd Nite London can be found by following us on Twitter @nerdnitelondon, liking us on Facebook or visiting our website. For more information about the Shine Trust visit www.shinetrust.org.uk