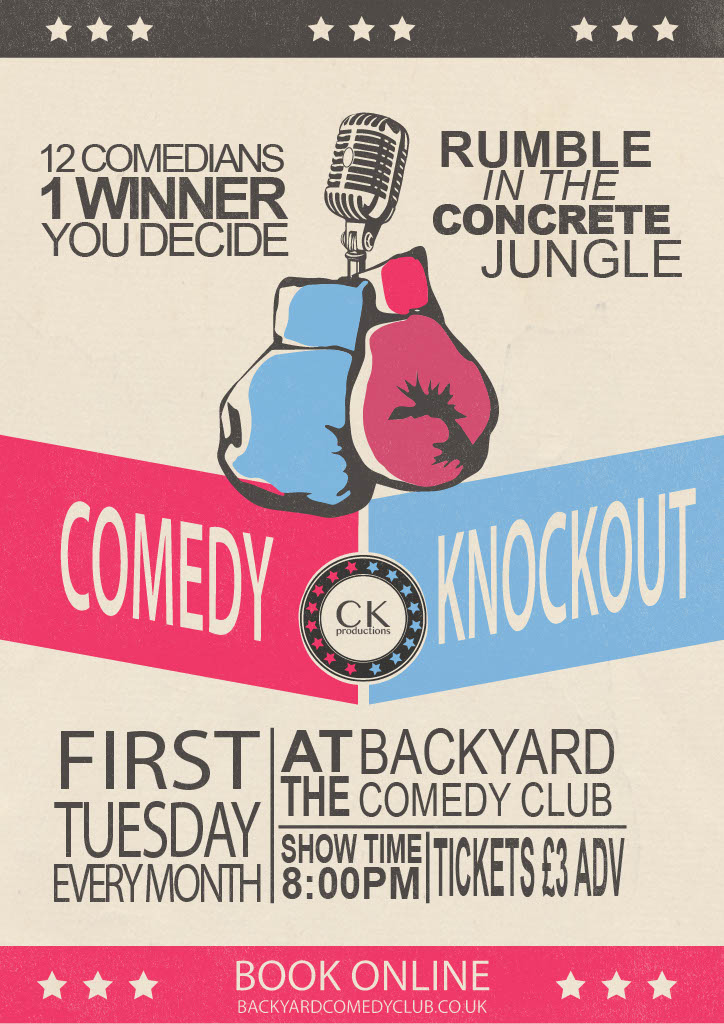 December 7, 2021 @ 8:00 pm - 10:30 pm
COMEDY KNOCKOUT
Join us for a BRAND NEW concept show.
Where you the audience decide which comedians get their chance to be the next big thing!
Comedy Knockout is a comedy competition where new acts battle it out for a chance at winning a coveted weekend spot at the Backyard Comedy Club where they'll get to perform alongside some the countries top comedians.
12 people go head to head with their best comedy material – then YOU VOTE who goes through to the next round where we'll be left the finalists, who will then give you more of the funny before the final vote where the winner is crowned!
Our night's Host and Referee will be David Ward
PERFORMING AT THIS EVENT:
Let the funniest win!
The comedy rumble in the concrete jungle 
Tickets – £3 in advance – £5 0n the door
Can't make the show we are also Live Streaming this event on NEXTUP – CLICK HERE FOR TICKETS
TERMS & CONDITIONS: PLEASE NOTE THAT EACH TICKET BOOKED IN ADVANCE MUST BE EXCHANGED FOR A WRISTBAND AT THE BOX OFFICE BY 7.15PM OR A £3 LATE ARRIVAL FEE WILL BE CHARGED TO EACH PERSON ARRIVING AFTER THAT TIME. YOU CAN NOT EXCHANGE TICKETS ON BEHALF OF PEOPLE IN YOUR PARTY WHO ARE NOT ON THE PREMISES.
Can't make the show we are also Live Streaming this event on NEXTUP – CLICK HERE FOR TICKETS