'Douieb has more than enough energy to go round, and he's a hugely engaging onstage presence.' - British Comedy Guide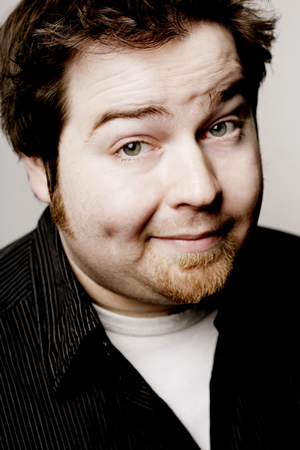 Tiernan has been doing the stand-up thing for a little while now. In that time that he's graced many a stage with his beardy face, playing gigs all over the UK and abroad. Douieb's friendly manner and fast paced gags have made him a highly sought after compere and act on the circuit.
Tiernan's took his debut solo show '28 Years Later' to the Edinburgh Festival 2009 where he had several sell out crowds and great reviews for his tenuously zombie linked rant about kidulthood.
Prior to this Tiernan had taken part in a two hander with Scottish Comedian of the Year Sean Grant at the Fringe 2008, as well as successful sketch shows Tea and Cake (2007) and Tea and Cake 2: In the Gateaux (2008).
He has done a lot of work for the Comedy Club 4 Kids, which is a stand-up show for 6-11 year olds, invented by James Campbell. Tiernan rather enjoys these as its one of the few times the audience are on the same intellectual level as him. Its is also one of the few gigs he has been heckled with the line 'My teacher's scared of bananas!'
Tiernan's also done a bit of telly work for CBBC, Orange Television, Virgin Media and a Carlsberg advert where he had to sing badly on purpose. He did not find the last one that difficult.
Regularly gigging for the top clubs, promoters and festivals, Tiernan has also supported Jim Jeffries on tour and in Oct 2008 he unknowingly had to follow Robin Williams on one of his surprise London appearances which was a bit terrifying.