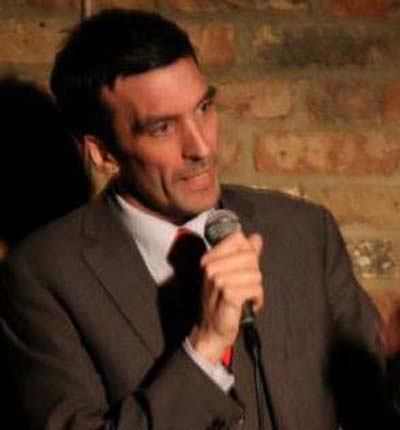 "Sean Patrick […] looks like a cockney Frank Skinner with sideburns and darker hair. […] Definitely act of the night." West Midlands Comedy Forum, review, October 2013
Sean Patrick was a public sector accountant until show business put wings on his heels and a smile on his face and transformed him into a high-octane cabaret entertainer. So what if his wife has left him? So what if he doesn't know any jokes? So what if Simon Cowell thinks he is wholly lacking in talent? Tonight he will convince you that Cowell was wrong – or die trying. A character act guaranteed to make everyone in your audience feel better about themselves.
Sean came onto the comedy circuit in March 2012 and regularly performs open spots for such clubs as Bromley Comedy Club, Out Of Bounds, The Back Yard Club, Downstairs at the King's Head (weekend spots), Joke Klub, Gags On The Green, Comedy Knights and Mirth Control. He also won King Gong at the Comedy Store and the Comedy Café New Acts Night in March 2014 and is booked to appear again at both clubs in July 2014.