**** "comedy the way it should be: a laugh-a-minute which leaves the audience wishing the show was just a little bit longer ... gentle Irish lilt belies a mischievous sense of humour." Fest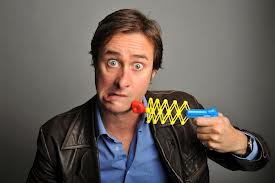 rish comedian and actor Paddy Lennox first burst on to stage as a Stand-Up in 2001 only to be interrupted with a couple of comedies at the Shakespeare Globe Theatre and filming in far off lands, before returning to his new found passion. An engaging and instantly likeable comic, Paddy combines topical material with observational routines.
Paddy's had a great start to 2010, he's been working the corporate scene including gigs for the BBC, ITV, Investec and Jysk, and he's also featured on The Blame Game, (BBC) Sky Poker and Talksport Radio. Music Festivals and TV warm-up man has been huge fun for him and he has supported many touring comics such as Rhod Gilbert, Lucy Porter and Micky Flanagan.
Whilst playing all the usual big clubs, Paddy likes to gig the smaller ones too. Otherwise life gets too predictable.