"Compere Lou Conran –always fabulous, a compere who makes her job look so effortless that it's a fair bet that her fellow comics want to do her serious harm." Fringe Review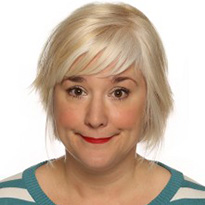 Lou is a versatile character actress, comedian, and writer. On leaving drama school she sought a professional career as a dramatic actress, and landed her first major acting role as Sara Bear, in the ITV version of the Tellytubbies, where she was dressed as a six foot orange teddybear. Very dramatic and very serious.
After a few more roles on telly, mostly dressed as animals, she went on to perform stand-up comedy which she continues to date. She's mostly found compering gigs up and down the country, which has brought her the reputation as an accomplished and skilled MC, she also performs sets, and writes and performs sketches.
She currently has a sitcom in development with Baby Cow productions, and is in the middle of filming her own 'chat show' called A Brew With Lou, for online content, interviewing comedians, and all sorts of interesting people over a cuppa and a biscuit. These are due to be released later this year.
Lou has been involved in many local writing projects, more recently Sketchole, which has been likened to Saturday Night Live.
"Naturally Funny" Sarah Millican
"A great MC, quick witted, and adept at handling large rooms" Gary Delaney
"Lou Conran is a very versatile MC and one of the warmest we use. She has the ability to judge a room and pitch her performance perfectly. Not only is she very funny, but she also sets the room up for the other acts. We love her. " Lee Martin Gag Reflex
"Lou Conran, pretty much one of the most confident and playful comperes we've seen recently, commanding a packed and raucous sell-out night with ease." Latest7 magazine
"Lou did a great job of hosting our gig in Darlington, really injecting energy into a fairly lethargic midweek crowd with her cheeky humour and impressive audience interaction. Really struck the right note, and I'll certainly be offering her more MC work on the back of it." Neil Jolly Hilarity Bites
"Fabulously naughty" UKTW
"Louise is a naturally funny comic, with a warm and dotty stage presence that helps endear her to an audience. If she can build on the great foundations she has laid, she's sure to have a good future ahead of her. Witty, naughty but most of all good fun, with a touch of the Victoria Wood about her." Toby Hadoke – XS Malarkey
"…with a cracking stage presence and good material…thoroughly engaging, you tell she has the talent." – Frog & Bucket