"Funny, personal, occasionally shocking and frequently mischievous."
– The Independent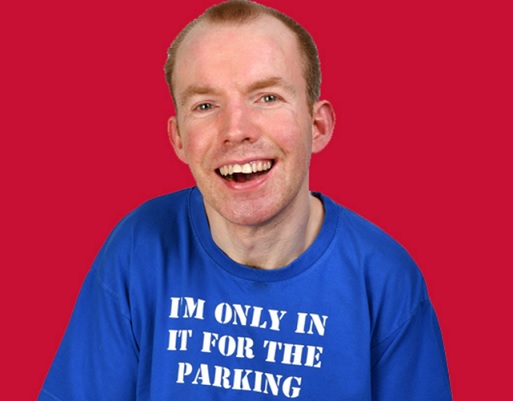 Lee Ridley AKA Lost Voice Guy can't talk but isn't silent. He is (probably) the first stand up comedian to use a communication aid. He won the BBC New Comedy Award 2014 and the 12th series of Britain's Got Talent in 2018.
"A very funny guy."
– Ross Noble
"A wonderful comedian."
– Matt Lucas
"Tremendous."
– Greg Proops
"Lost Voice Guy is fantastic."
– Sean Hughes
"A great talent!"
– Jason Manford
"Lost Voice Guy is amazing! He's so fresh, unique and very very funny!"
– Patrick Monahan
"Finding humour in strange places is one of Lost Voice Guy's strengths."
– The Guardian
"An Edinburgh Fringe one-off. Think Stephen Hawking reading the BBC News in the 1950s via a device programmed by the writers of the Viz."
– The Herald
"The funniest comedian at the Edinburgh Fringe. His banter with the audience is one of the best I have witnessed."
– Broadway Baby
"Lost Voice Guy has proved himself as a good act."
– Chortle
He has gigged all over the UK at places like The Stand, Manford's Comedy Club, Jongleurs, The Frog and Bucket, The Glee Club, The Comedy Store as well as many independent clubs. He has featured on the BBC, CNN, The Independent, The Sun and The Mail on Sunday. An article about him in The Guardian said that finding humour in strange places was one of his strengths. His first comedy sketch premièred in December 2012.
He has also told jokes/given motivational speeches for a range of charities and other similar organisations including Communication Matters, Find A Voice, the Royal College of Nurses, Percy Hedley School and the Royal College of Speech and Language Therapists.
He is also a patron of Find A Voice and Communication Matters and The Sequal Trust.