"An incredible presence on the stage. Mesmerising to watch and an extremely articulate improviser. Fantastic." - XS Malarkey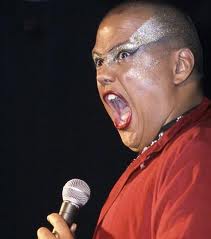 Jonathan Mayor is one the rising stars of the Manchester alternative performance scene, making regular appearances not only on the stand up circuit, but also various queer or black minority events and performances.
His first appearance as a stand up comedian was at Pink Purse, a queer performance night at Manchester's radical Contact Theatre in December 2001, and that night saw the start of a growing cult of lesbian and gay fans. Not that Jonathan was any stranger to the stage, having appeared in amateur and semi-pro theatre ever since he was old enough to wear a pair of sling backs, including producing and performing in a play at the Pleasance at Fringe 1993.
Jonathan's path into full time stand up was largely due to the landlord of the Bulls Head handing over his highly respectable establishment for the camp riot that is Jonathan's Tuesday night quiz. This quiz quickly evolved into a night of comedy and cabaret with a few questions thrown in. It was here that he was spotted and encouraged try the alternative stand up circuit.
His first 'proper' stand up gig was at the highly respected Manchester Buzz club in April 2002. Since then he has made several appearances at all the major Manchester venues. He has also performed at the Gilded Balloon in Edinburgh, in the So You Think You're Funny heats and at the Liverpool Comedy Festival.
Jonathan was also a finalist in the City Life North West Comedian of the Year Award 2002.