"comedian whose commitment to a joke can't be faulted, as he goes well beyond the call of duty for a laugh" - CHORTLE.CO.UK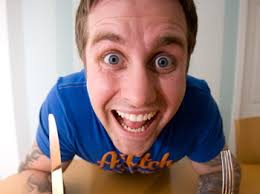 Hello. My name is Joe Bromehead I'm a professional comedian from England. I enjoy fine wine, travelling and long romantic walks on the beach. I come with own car and GSOH. Im seeking a fun loving 50+ woman for discreet, no strings attached fun. oh sorry wrong website.
I can be seen performing live at many of the premier comedy clubs in the UK and abroad and come with a sterling reputation as a funny man. Take a look at my clips and if you like what I do, do tell me because as you know, as all comedians are, I'm often crippled with self doubt and seek the approval of complete strangers in order to fill some kind of void in my soul.