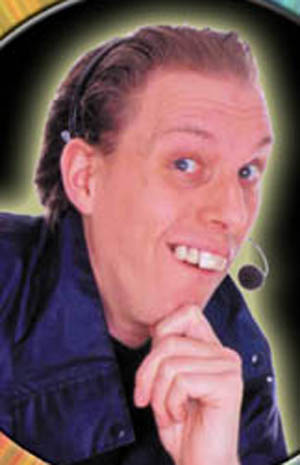 Jeff Downs started to perform and write stand-up on London's comedy circuit in 1998. Entered various stand –up competitions and performed at many new act nights. Joined The Laughing Cavaliers Improvisation group, regular member for over 18 months. Continued to perform stand-up and go to impro night classes.
Performed and co-wrote with Tickerlish Allsorts, character and sketch show, two nights at The Hen and Chickens, July 2000. Continuing to write and develop stand up, started a comedy club in Clapham which ran for six months, comparing and booking acts. Started to write new character Larry Bernstein now Larry Black and perform round clubs of London.
Performed Larry as a 20-minute set in front of selected head's of industry as part of a Motivational night organised by a motivational speaker David Taylor. Started The Gun-Ho Comedy Club in Croydon booking and performing on a monthly basis. Co-wrote and performed in The Bootlegs at Edinburgh Festival 2001 with, Martin Beaumont, Lawry Lewin and Kevin Sherwarni.
I performed Larry as a 10 minute sitcom format which was part of the Sitcom Trials at The Comedy Pub run by Kev Sutherland.
Completed 45min set at the Hen and Chickens as The Larry Bernstein Lecture. Other acts on that night included Alfie Joey.
Performed new shows in April and November 2003 of Larry's new show, 'Celebrities in Need'. Continuing to gig around the UK and also appearead in the heat final in Southampton of Jongleurs search for a new act.
Written and performed with Bob Sinfield as part of the Bob Sinfield Laughter Zone on Oneword Radio. Performing as Larry and sketches submitted for show. In July, performed a sketch with Bob Monkhouse during a recording of sketches for the Laughter Zone.