"He'll make you smile, he'll make you laugh, he'll make you want to fall in love with him" - The Stage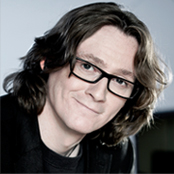 Ed's standup career began during his college years at Strathclyde University, Glasgow.
As student welfare officer he was often called on to MC events in the university and soon was being invited to perform at other third-level institutions around Scotland. It wasn't long before he'd quit his studies completely and started up a small comedy club in Glasgow. From there he moved to London, where he started all over again with open spots and short sets on the club circuit, honing his material and developing the curmudgeonly and nerdy persona we've all come to know.