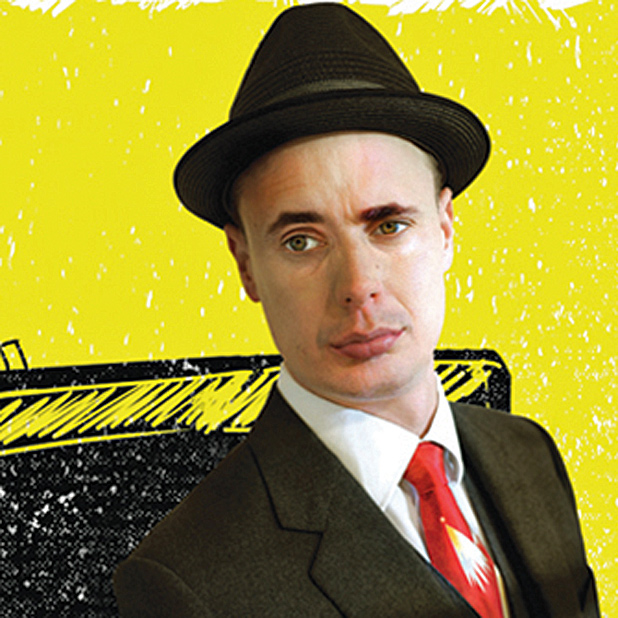 Asher spent his early years sat in the back of an army green panel van driving up and down the east coast of Australia with his Hippy/Bogan (Hogan) parents. He grew up in Byron Bay and attended Mullumbimby High School where he was ironically expelled from Drama class in year 8 for 'not being serious enough.' After finishing high school he packed his bags, moved to Melbourne and attempted to enrol in a pilot course for the National Institute of Circus Arts. Asher was accepted as a 'sublicant' to prove to funding organisations NICA's capacity for polishing a turd. Asher completed two Diplomas at NICA and is a qualified idiot and carnie. After his graduation he moonlighted with the world renowned La Clique, (now Le Soiree) in Melbourne and the UK.
In 2006 Asher moved to London, there he met comedian Robin Ince and was inducted into the infamous Book Club. There he found himself working alongside comedians like Josie Long, Stewart Lee and Stephen Merchant and in this environment of incomprehensible art wank, he flourished. In 2009 with the assistance of a Moosehead Grant he earned his first critical success with a nomination for the 2009 Barry Award at the Melbourne International Comedy Festival. Then in 2010, his third show 'Secret Door' went gangbusters and won him the Age Newspapers Critics Choice Award and garnered Asher a Best Newcomer Nomination at the Edinburgh Fringe in 2010. Since that time Asher has written 6 solo comedy shows, which he has toured nationally and internationally.
Asher's blend of physical comedy, stand up and his burgeoning sense of socio political satire have made him one of the most fascinating comics working in Australia today. Not bad for a kid who was kicked out of High School drama for not being serious enough.
'Not as good as John Cleese,' 'A post modern Barry Humprhies,' and 'like watching a spider in a microwave' are some of the many colorful phrases used to describe award-winning comedian Asher Treleaven.