"A gifted ball of energy. Loads of gags and wit to match." Patrick Monahan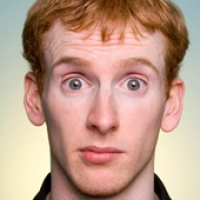 Andy Watson immediately grabs audiences with his unique blend of sharp one-liners and physical comedy skills. In 2005, he won the City Life North West Comedian of the Year Award (past winners of the prestigious award have included Peter Kay, Caroline Aherne, Dave Spikey and Jason Manford).
In 2008, Andy was hand-picked to support Paddy McGuinness on his 'Plus You!' tour.
Andy is a prolific writer and frequently appears at The Comedy Store's 'New Stuff' night, where he tests his latest material. He regularly plays big clubs including The Comedy Store, The Stand, Highlight, The Frog & Bucket, Baby Blue and Covent Garden Comedy.
His trademark energy and incredibly high gags-per-minute rate make him a must-see act, guaranteed to storm it in front of even the rowdiest weekend audience.
"The perfect mix of a great performer and a great thinker. A very rare combination."Adam Bloom
"I wouldn't book him if he was shit." Toby Hadoke, New Stuff at The Comedy Store
"Watson wowed the audience with his hi-energy, perfectly executed set. Like a force of nature he grasped the crowd's attention and left them in hysterics" City Life
"Abuzz with nervy energy, he has an easy, identifiable charm combined with the rhythms of a seasoned pro, which does great justice to his material. An irresistible, infectious style that had the audience rapt from the get-go." Chortle
"His gags were superb and the performance element to his set was wholly original and uproariously funny. Definitely one to watch." The Hinckley Times
"Outstanding! A measured, top-quality act, punctuated by some brilliant physical impressions. A cacophony of laughter from the audience erupted time and time again throughout his set. From now on I will insist he features as a headline act at all the clubs I programme" John Marshall, aka Agraman the human anagram, Buzz Comedy
"One of the best acts I've seen. He has a knack of instantly grabbing an audience and taking them on a rollercoaster ride. His physical antics and superbly-written material had the audience in stitches for his entire set. I cannot recommend him enough." Guy Thomas, The Comedy Club, Golborne
"Andy headlined our opening night and completely knocked it out of the ball-park! His brilliantly-written material and razor-sharp audience interaction meant he had the audience in the palm of his hand right from the get-go. His effortless handling of hecklers won him several rounds of applause within the first few minutes of him being on-stage. Without a doubt, he's one of the best comics on the circuit right now. A MUST SEE." Nick Banks, Rib Ticklers