Star Trek Vs Star Wars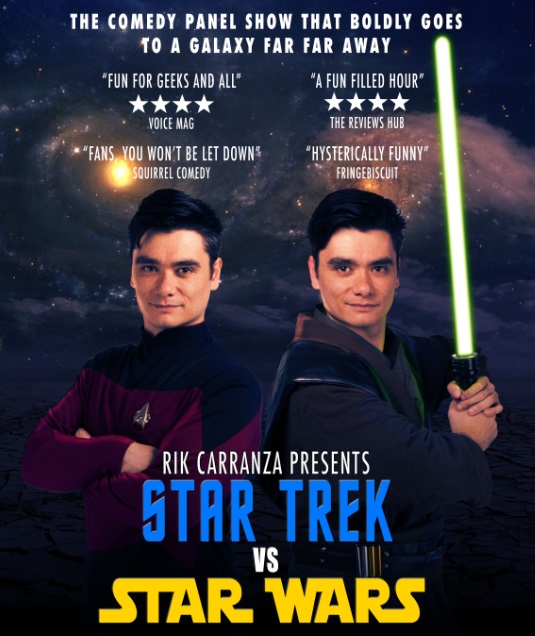 February 18, 2018 @ 6:30 pm - 9:30 pm
£5 – £7
Rik Carranza presents: Star Trek vs Star Wars
CULT HIT OF EDINBURGH 2016 & 2017
'Exceptionally nerdy and hysterically funny' FringeBiscuit
'Fun for geeks and all' ★★★★ VoiceMag
'A fun filled hour' ★★★★ TheReviewsHub.com
The Ultimate Sci-Fi Showdown.
Han Solo or James T Kirk?
Darth Vader or Khan?
Jar Jar Binks or Neelix?
Two comedians – two franchises – one winner.
With guests:
DARREN WALSH (Star Trek) 
Having worked as an illustrator, animator and short-film maker, life-long Monty Python nerd and official giant, Darren Walsh decided to try his hand at Stand-up in 2010, using props and and strange sound effects he'd made in his bedroom.
Punderbolt ★★★★
'Any comedian who can engage an audience and maintain a momentum of pun-filled one-liners for an hour is worth their weight in gold' Comedy Blog
2014 UK Pun Champion
MATTHEW MCALOONE (Star Wars) 
Touring the UK, Ireland, and soon the world, one of the 2015 BBC NATY's Matthew McAloone can be seen at any of the top clubs, performing or hosting to great acclaim. With credits and compliments from the Comedy Store, The Stand, Glee clubs and more, expect big things from this audience favourite.
Bringing a style that mixes storytelling, line crossing, and a realisation he is too large to be told off for being a smart-arse, no performance is ever the same so the only way not to miss out is to see Matthew as often as possible.
"A confident character that obviously revels in a challenge" Comedy Store Manchester
"A Comedic Forest Fire!" Comedy Cafe Theatre, London