Stand Up… For Democracy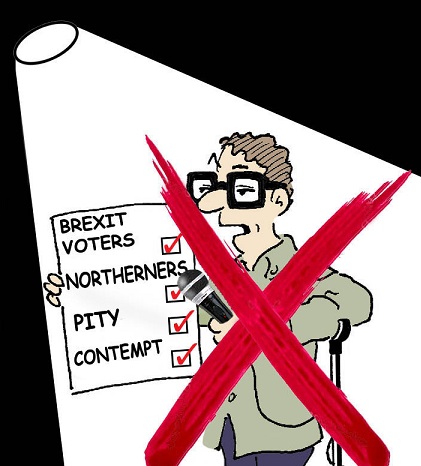 June 7, 2017 @ 7:30 pm - 10:00 pm
£10 – £15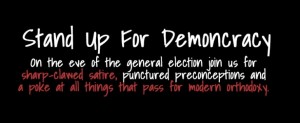 On the eve of the general election join us for satire, punctured preconceptions and a poke at all things that pass for modern orthodoxy.
Andrew Doyle 
The co-writer of internet sensation Jonathan Pie, the spoof news reporter created by Tom Walker which toured the UK, culminating in a sell-out performance at the London Palladium. Their online video responding to the US election result has had in excess of 130 million views. Andrew recently appeared at the Soho Theatre, London, in his fifth solo stand-up show Future Tense.
Will Franken 
Described by the Guardian as "The sharp-clawed satirist on US culture and liberal piety, who constantly upends what it is we think we're watching. He makes for a unique and compelling hour. Franken's fluidity recalls the Pajama Men, while the darkness of Franken's imagination is like Chris Morris: this is Blue Jam with a wilder look in its eyes."
Miriam Elia 
The Sony nominated surreal comedy writer. Elia punctures modern pretentiousness and unravels unthinking liberal orthodoxy. Her diverse work includes illustrated books such as 'We go to the gallery' and 'The Diary of Edward the Hamster,' as well as prints, drawings, short films, radio comedy and animations.
Dominic Frisby 
An expert in economics, politics and current affairs – as well as being an extremely charming comedian and compere. He is currently the host of the Virgin podcast 'Live. Life. Better.', featured in Dave's TV series 'The Money Pit', alongside Jason Manford, in which he appeared as the financial expert. He writes a weekly investment column for Moneyweek, and regularly writes for the Guardian.
This is a Benefit gig for Invoke Democracy Now 
IDN is a non-partisan group who came together to stand up for democracy after the EU Referendum result. IDN believes that, with Brexit, we have a rare and valuable opportunity to breathe new life into politics. It creates a space for democrats across the political spectrum to address the big issues, as we prepare to leave the EU. Money raised will be spent on organising events across the country to bring people together and discuss the future we want for ourselves, our country and our relationship with the wider world.