Nerd Nite London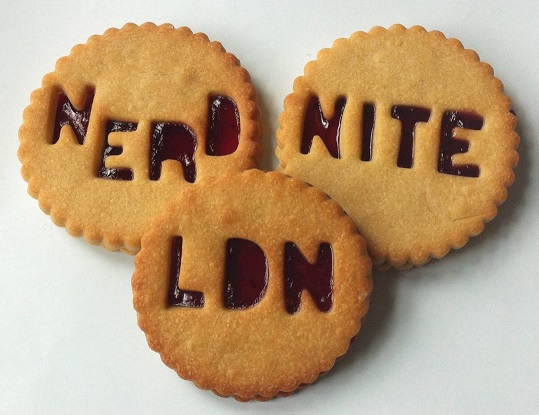 May 15, 2019 @ 7:30 pm - 10:00 pm
£5 – £7.50
NERD NITE LONDON, WHERE IT'S HIP TO BE SQUARE.
NERD NITE LONDON IS A MONTHLY EVENT WHERE THREE SPEAKERS GIVE 18-21 MINUTE FUN-YET-INFORMATIVE TALKS ACROSS ALL DISCIPLINES, WHILE THE AUDIENCE DRINKS ALONG. EVIDENCE BASED ENTERTAINMENT, IN A BAR …
THIS MONTH WE LEARN ABOUT DRUNK MEN AND WOMEN, BEES AND THE MOST IMPORTANT BOOK (ALMOST) NOBODY READ.
PLANET OF THE APIARISTS
Bees! For thousands of years, people have kept bees for honey, wax, and other wondrous secretions. Bees have been an inspiration for works of art from ancient cave paintings, right through to Billie Piper's underrated debut album "Honey to the B." Matt will talk about bees' history with humans and how our relationship with bees has shaped our society for millennia.
Bio: Matt is an economist for the civil service by day, but has been fascinated by social insects since playing the videogame SimAnt (like The Sims, but with ants) as a child. Since then, he's consumed every work of fiction and non-fiction he can find on bees, as well as successfully managing to hang out with bees without getting stung sometimes.
DRUNK MEN ARE FROM MARS, DRUNK WOMEN ARE FROM VENUS.. (AND WILL ARRIVE A FEW HOURS LATER)
The journey of alcohol through the male and female digestive system is rather different. The inebriation curve (as I call it) is much steeper in men than it is in women.  So men begin to talk complete nonsense pretty early on in the evening and then fall asleep, whereas women save the babbling incoherence for later and then wonder why their partner isn't listening.
In this short presentation, we'll accompany some alcohol molecules on their journey through the stomach and upper intestine and finally into the brain of a man and a woman, and see which journey is most fun. We might also indulge in a feminist rant on the exclusion of data on women from clinical trials and government dietary recommendations.
Bio: Kay Scorah is a lapsed biochemist and advertising person, leadership and communications consultant, inventor of the Essex Road Recipe food improvisation project, writer of a blog (warning, not for the easily offended) and occasional standup and theatre performer. She has run her own business, havemorefUnlimited for 32 years.
THE MOST IMPORTANT BOOK IN THE HISTORY OF THE WORLD (AND WHY NOBODY READ IT)
In the summer of 1687, squat in the shadow of the shiny new cathedral Christopher Wren was building among the ashes of the Great Fire of London, a small printer's shop published a book that would change the course of history. This book was Isaac Newton's Principia Mathematica, and it revolutionised humanity's understanding of its place in the universe. It changed forever how we study the natural world, kick-started the Enlightenment, and invented modern science as we know it. There was just one problem: absolutely nobody read it. Or, to be more precise: eight people read some bits of it.
Bio: There are 144 copies of the book still in existence, and Kevin has stupidly set himself the task of visiting every single one of them to work out exactly who studied it.
He is hoping that Oxford University will one day award him a PhD for his research, but is firmly realistic about whether anyone will ever actually read his thesis. In the meantime, he spends his time in stunningly beautiful libraries surrounded by stunningly beautiful books, wondering whether any of us is really telling the truth about what we have and haven't read.
Twitter: @ReadingNewton
ALL PROCEEDS FROM NERD NITE LONDON GO TO CHARITY. THIS YEAR WE ARE PARTNERING WITH THE SHINE TRUST TO HELP FOSTER A NEW GENERATION OF NERDS.
MORE INFORMATION ABOUT NERD NITE LONDON CAN BE FOUND BY FOLLOWING US ON TWITTER @NERDNITELONDON, LIKING US ON FACEBOOK WWW.FACEBOOK.COM/NERDNITELONDON OR VISITING WWW.LONDON.NERDNITE.COM. FOR MORE INFORMATION ABOUT THE SHINE TRUST VISIT WWW.SHINETRUST.ORG.UK