Jim Davidson – Live Interview and Q+A
April 8, 2015 @ 8:00 pm

-

10:00 pm

£12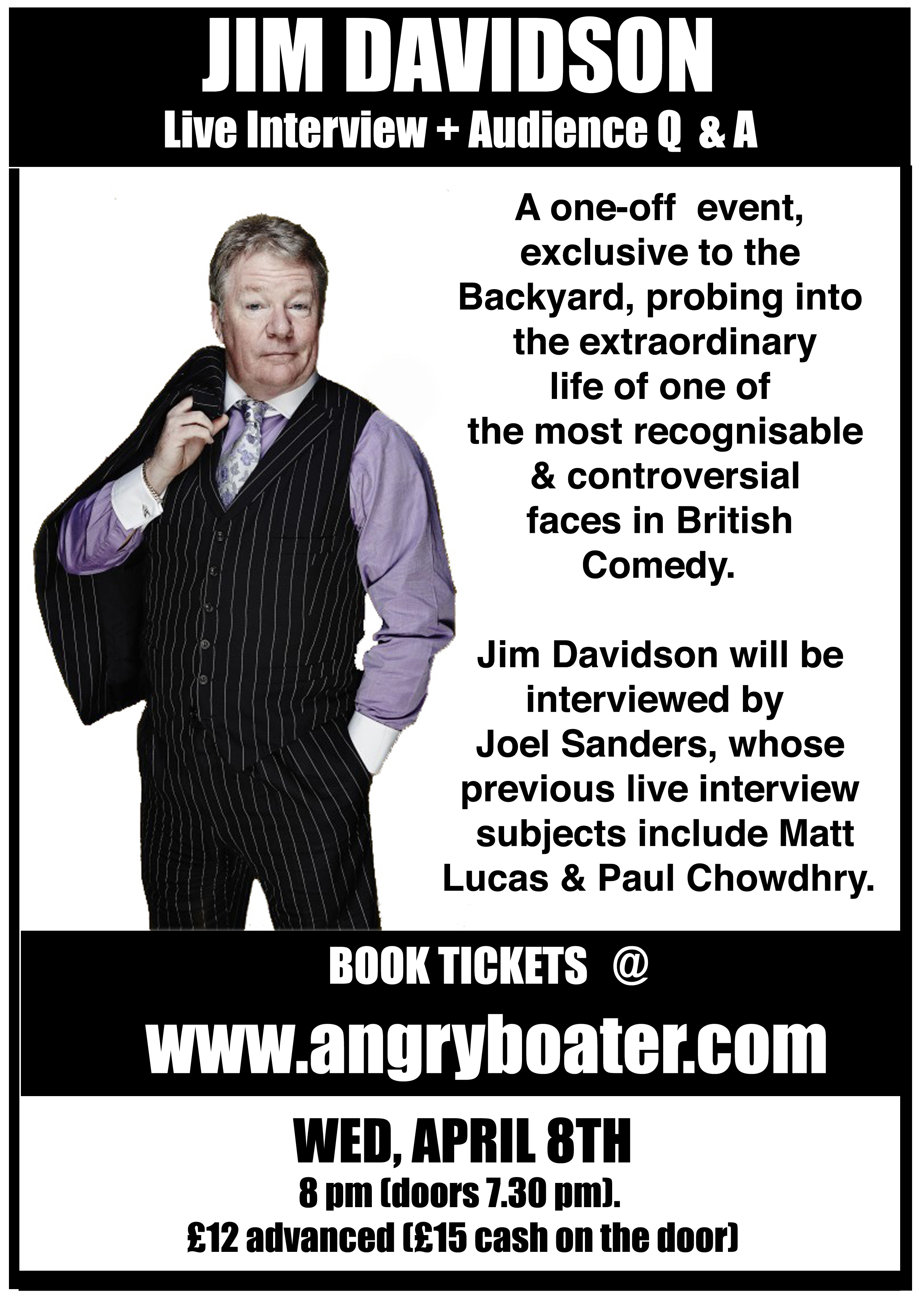 A unique opportunity to hear Jim Davidson – Britain's most loved (by some) comedian – talk about his life & career, his hopes, loves & fears…. and the controversies he's survived along the way. Did he really cancel a show because the front row was full of disabled people?  How did he survive his year of hell under investigation by Operation Yewtree? What's it like when your life is a one man soap opera? What's it like to wake up each day and be Jim Davidson?
Joel Sanders will interview Jim in front of a live audience who will also be invited to pose their own questions.
Joel's previous live interview guests have included Matt Lucas and Paul Chowdhry. Upcoming events are scheduled with Harry Hill & Milton Jones.
Joel on Jim
I'm especially excited about having the opportunity to talk with Jim. My comedy life has mostly been spent hovering around the so called 'alternative comedy' world where , from the beginning, mainstream comics were identified & vilified as the enemy force. The King of that mainstream world was – and still is  – Jim Davidson. For as long as I can remember, his name has become a symbol for all that is supposedly bad / wrong with comedy. Yet, on his worst day, his talent is enough to outshine most on their best.
I remember seeing Jim breaking through on TV in the late 70's, winning New Faces – and, overnight, becoming a national star. These were the days when one TV appearance could have that effect. There were 3 channels and no internet. TV was important then. People cared about what was on.
When I was a student, I saw nearly every comedian that came to my local theatre – the Apollo (now 'New Theatre') in Oxford. It's the first place that I saw Jim perform. I'm guessing it was 1987.
It was sold out, I was on the front row and I'm pretty sure he walked out to the Star Trek Theme Tune. The comedy circuit that I was soon to become a small part of dictated that I was not supposed to like Jim Davidson… but I did. He had funny bones. He made me laugh. That was all that mattered to me. It was the first of many Jim Davidson happenings I would enjoy over the years.
When I set out to establish this series of live interviews, Jim was one of the first people to come to mind. In a sense, I grew up with him…. but I do not know him.
I'm lucky to have met most of my heroes and – despite the old saying – none of them have been a disappointment.  This will be a fascinating night for me. If you've read this far, I hope I've piqued your interest enough to join us.
Buy Tickets