Hate 'n' Live @ Comedy Unleashed – POSTPONED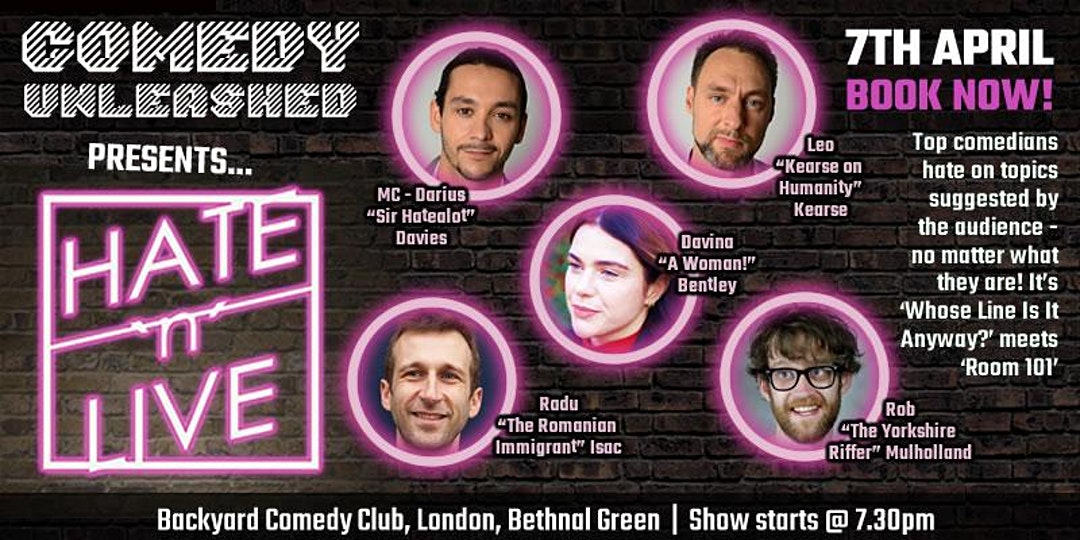 April 7, 2020 @ 7:30 pm - 10:30 pm
£9 – £17
Hate 'n' Live is an improvised stand-up show like no other. Audience members write down topics and comedians "hate on" them – no matter what the subject! This hilarious format comes into its own when comedians squirm around contentious subjects.
Comedians:
MC: Darius "Sir Hatealot" Davies
Leo "Kearse on Humanity" Kearse
Rob "The Yorkshire Riffer" Mulholland
Radu "The Romanian Immigrant" Isac
Davina "A Woman!" Bentley
Every show is unique with a changing panel of comedians and a variety of fast-paced rounds. Audience subjects range from topical to surreal, with comedians having to say why they hate "caravaners", "the mating rituals of guinea pigs" and "people who jumped early on 9/11".
Uncensored, provocative but always hilarious, Hate n Live often courts controversy in today's hyper-offended culture. It is the only show where comedians have free rein to say what they want – an unsafe space in a sanitised and censorious society. A huge hit with audiences – it's edgy, improvised and they own it!
Currently in development for TV, Hate n Live has become a cult sensation at the Edinburgh Fringe and toured internationally to the Perth and Adelaide Fringes. Raucous, unpredictable and hilarious, it's the Motley Crue of comedy!
"A great idea for a show, brutally funny… absolutely brilliant!" – The Scotsman
"Genuinely offensive…dangerous…a traumatic experience" – The National Student