Gynaecomedy!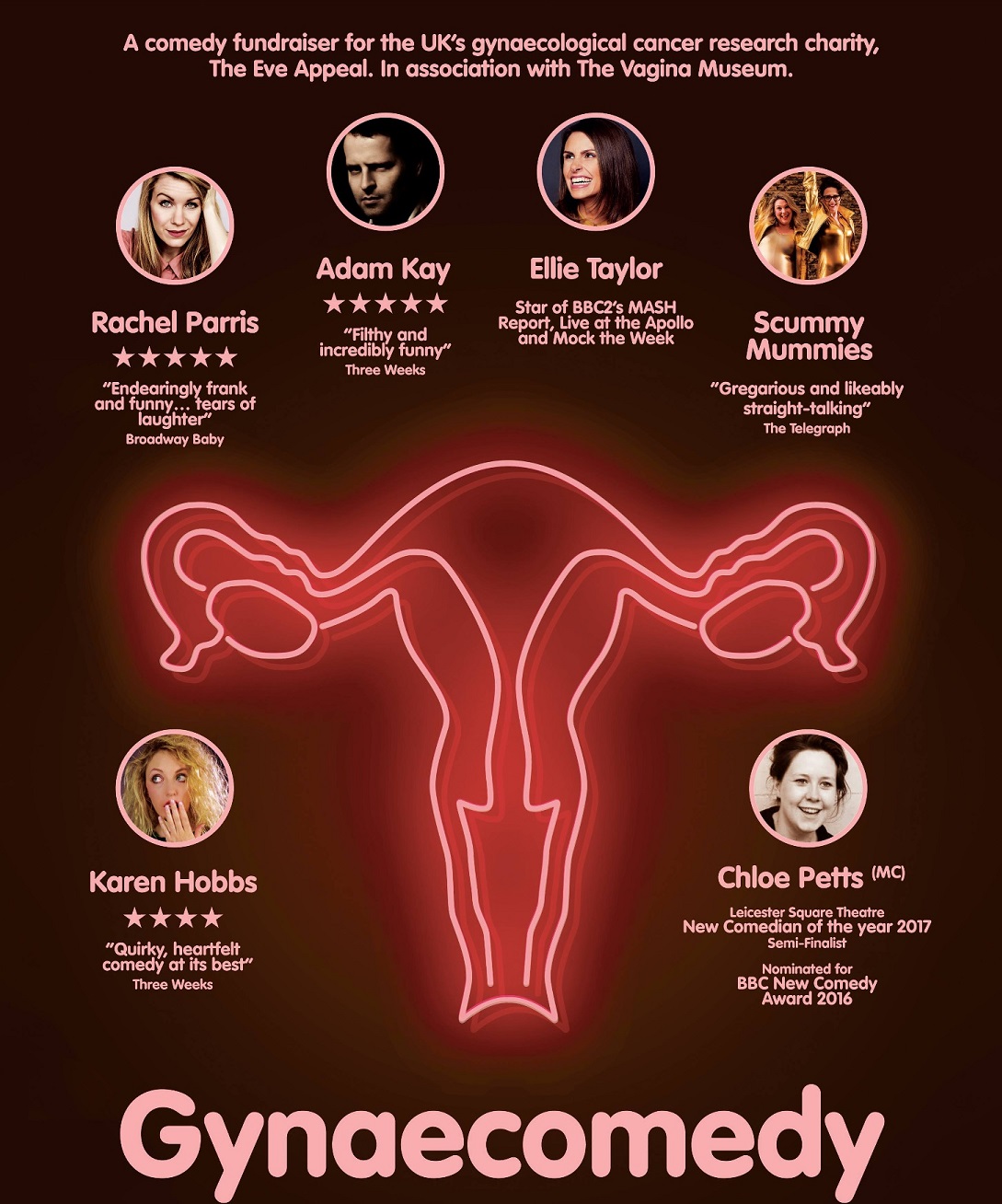 February 19, 2018 @ 8:00 pm - 10:00 pm
£10
Welcome to Gyanecomedy! The first comedy fundraiser for the UK's gynaecological cancer research charity, The Eve Appeal, with support from our friends at The Vagina Museum. <3
We're very lucky to have such a fantastic line-up of comedians supporting this event, so come and laugh at things we shouldn't laugh at and help us raise awareness for women's cancers!
ADAM KAY
Adam Kay is an award-winning comedian and writer for TV and film. He previously worked for many years as a junior doctor. His first book 'This is Going to Hurt' became an instant Sunday Times bestseller. Adam achieved success as frontman of Amateur Transplants, with 20 million hits (including the iconic London Underground Song), and now is greatly in demand as a solo performer, with multiple sell-out Edinburgh Fringe and West End seasons as well as international tours.
★★★★★ "Filthy and incredible funny" –Three Weeks
★★★★★ "Blissfully brilliant" – Mail on Sunday
★★★★★ "Left us with eyeliner streaming down our face" – Cosmo
ELLIE TAYLOR
Most recently you may have seen Ellie on BBC2's Live at the Apollo, Mock the Week, The Mash Report or maybe getting her jazz hands on for BBC1's Lets Sing and Dance for Comic Relief.
On the stand up front, Ellie's solo stand up shows have been hugely successful. She debuted her first hour at the Edinburgh Fringe Festival in 2014 with her show 'Elliementary' which was a complete sell out, as was her follow up hour in 2016, 'Infidelliety'.Ellie's brand new show, 'This Guy' premiered at Edinburgh's prestigious 'Pleasance' venue before embarking on a UK tour taking in a whopping 30 dates.
"Smart, self mocking, and telegenic. It's hard to see what's going to get in Taylor's way" – The Scotsman
"She doesn't miss a beat" – The List
"Charismatic, personable and bright" – Chortle
SCUMMY MUMMIES
The Scummy Mummies comedy duo host a fortnightly chat show for less-than-perfect parents and perform live shows around the UK. No subject is off limits for this pair.
They have featured on Lorraine ITV, BBC's Woman's Hour, BBC Radio 4, The Sunday Times, The Telegraph, The Times, The Guardian, Metro, The Evening Standard, Sky News, London Live and BBC World Service.
"Gregarious and likeably straight-talking" – The Telegraph
"The two bounce off each other perfectly… Hilarious" – Broadway Baby
"Very funny" – The Guardian
RACHEL PARRIS
Rachel Parris is an award-winning musical comedian, actor and improviser, currently on BBC2's The Mash Report.
As a comedian, she has won critical acclaim for her solo shows which have run at the Edinburgh Fringe, the Soho Theatre London and on national tours, and has been awarded Best Musical Comedy Show (Whats On London), Best Jokes of the Fringe (Telegraph),  nominated for Best Show 2016 (Funny Women)  and recommended as a Pick of the Fringe by the Guardian.
★★★★★ "Parris is like a summer storm; sunny and playful one minute, dark and treacherous the next…Her comic timing is immaculate…mastery as an all-round performer" – Broadway Baby
★★★★ "Beautifully crafted and performed…endearingly frank and funny…tears of laughter" – Guardian
★★★★  "delightfully provocative – makes you laugh your pants off" – Edinburgh Festivals Magazine
KAREN HOBBS

Karen's favourite subject is herself. Her stand-up rule is to 'always tell the truth', which has resulted in too many audiences members knowing too much about her.
In 2016 she took her debut solo show 'Tumour Has It' to the Edinburgh Fringe, where she used her trademark style of hilarious oversharing to squash the stigma around cervical cancer.
★★★★ "Quirky, heartfelt comedy at its best" – Three Weeks
★★★★ "Successfully humours and emotionally moves her audience" – EdFest Mag
"Life-affirming" – The Scotsman 
CHLOE PETTS (MC)
Chloe Petts has been performing stand-up comedy for two and a half years. Lesbianism, Childhood, Prom Photos. She's got the lot. She has a unique sense of agency (that means basically she's in control of herself and others).
Lighthearted, cheerful humour mostly about being a Kentish gay woman. Witty observations mixed with a healthy amount of tongue in cheek butchness.
Leicester Square Theatre New Comedian of the year 2017 Semi-Finalist
Nominated for BBC New Comedy Award 2016
Make sure you don't miss out on an evening full of raucous laughter, and book your tickets ASAP using the form below. We'd love to see you there!