BRAINWASH CLUB with NINA CONTI & SHENNOAH ALLEN & ROBERT WHITE
July 11, 2018 @ 7:30 pm - 10:00 pm
£10 – £15
London's top comedy/variety/odd night is back! Getting a good Brainwash is always a treat and in the past has featured such acts as Harry Hill, Omid Djalili, Reg D Hunter, Tony Law, Phil Kay, Kevin Eldon and Simon Munnery to name just a few. Don't be a chump, get on down!
NINA CONTI & SHENNOAH ALLEN
AS
MONKEY & ROY
★★★★ 'Devastatingly witty' – Times
★★★★ 'You will see nothing like it onstage' – Evening Standard
★★★★ 'Put simply, Nina Conti is a genius' – Mirror
A giant monkey and a man with no credentials stare into your soul and help you solve your personal problems.
Created and performed by Nina Conti and Shenoah Allen 
Nina has won a British Comedy Award, stormed Live at the Apollo, Russell Howard's Good News, Sunday Night at the Palladium, and made a BAFTA nominated film – all without even moving her lips.
She began her career as an actress at the Royal Shakespeare Company, before the genius and anarchic theatre director Ken Campbell inspired her to become a ventriloquist. In 2008 she won the prestigious Barry Award at the Melbourne International Comedy Festival for her solo show Complete and Utter Conti. In 2010, Talk to the Hand had sell out seasons in Edinburgh, London, Melbourne, the Sydney Opera House and New York.
Shenoah is one half of The Pajama Men, an American comedy duo of character comics from Albuquerque, New Mexico. The duo are renowned for their unique brand of physical comedy, split-second character changes and their comedic timing while performing in their pajamas. They have won numerous awards including the prestigious Barry Award at the Melbourne International Comedy Festival in 2009 and Best Newcomer and Best of the Fest at The Sydney Comedy Festival in 2009.
See the pair of them together in this new act they have put together.
ROBERT WHITE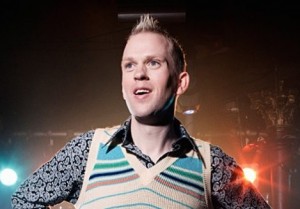 Bonafine comedy sensation. Maestro of filthy ditties and crooner of silly witties. The only gay, aspergic, quarter-Welsh comic on the British comedy circuit.
★★★★ 'Pitch-perfect delivery… Just brilliant' – Chortle.co.uk
★★★★ 'Jaw-dropping riot' – List
★★★★ 'Robert White tries hard – and spectacularly succeeds' – ThreeWeeks
'Superb' – The Telegraph
With support from:
THE ESTABLISHMENT
MAN OF 1000 FARCES