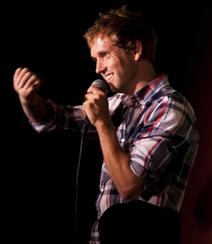 Matt grew up in a small town with his wholesome Roman Catholic family filled with morals and values.
As he learns about alcohol, woman, and television, he craves the authentic connection with an audience to share his discoveries with.
Matt has taken his relaxed personality and sincere story telling throughout North America. Been recognized with shows for Just For Laughs, Sirius XM Radio, and Host of the Young Guns Of Comedy Tour.
Awarded Ottawa's Up And Comer, co-produced/starred in two sold out shows at The National Arts Center Of Canada, as well as The Relentless Road trip; a 70 show in 90 day tour across Western Canada.
Matt has made an impression early and doesn't plan on stopping here.
Come see what big city living looks like through the eyes of a country bumpkin.